By: Ashley Arax for The Dirt
Art in Action is a family art program hosted by the Pence Gallery.
The monthly classes cover a wide range of engaging art projects aimed at kids ages 5—12, and adults may even learn a technique or two.
For August's "Terrific Terrariums" class, kids assembled their own tiny botanical wonderlands filled with toadstools, colorful rocks, and air plants. 
The creative energy in the room was high as everyone zipped around from station to station gathering supplies, and there was no shortage of encouragement from the art instructor as she made rounds observing all of the miniature masterpieces. Ideas and compliments were exchanged among the kids as well, and my child was inspired to paint her toadstool (and practically everything else in the terrarium) hot pink.
The class was thoughtfully organized and provided a great opportunity to do the types of art projects I always aspire to do with my child, with the added bonus of making a mess (and cleaning it up) at a place that is not my home.
There is no pre-registration required, you can just show up at the door and pay for the class. Each child is required to be accompanied by a parent/guardian. For more information visit https://pencegallery.org/art-in-action/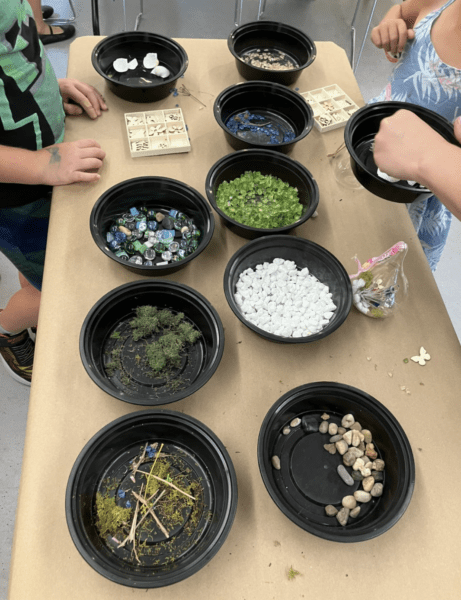 Art in Action at the Pence Gallery
Classes held monthly on Sundays from 1PM–3PM
Projects are $5 for Members, $10 for Non-Members
November 19: Fabulous Paper Folds
Experiment with origami folding techniques to create unique paper creations like a bouquet of flowers.
December 3: Spectacular Silhouette Paintings
Create a landscape painting with acrylic paint and silhouette stickers.